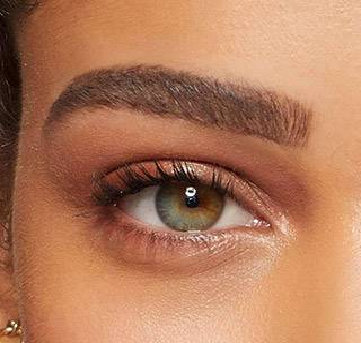 In this pandemic, wearing a face mask doesn't have to mean you can't glam it up. On the contrary, it's an opportunity to amp up your look with a focus on your eyes since they are the part that remains visible, becoming the highlight of your face.
This post will discuss tricks and tips on how to make your eyes pop with makeup, helping you nail that ethereal gaze.
1. Brighten your under-eye with concealer
Dark circles can create an illusion of shadow around your eyes, making them appear smaller. By applying concealer on your under-eyes, it will help even out the skin tone across your face, illuminating your eye area.
Simply dab some concealer on the inner corner and outer corners of your eyes, as these regions tend to look darker. This will help add light to those areas, making your eyes appear more lifted and awake.
When buying a concealer, look for one infused with eye-protecting ingredients such as goji berry and haloxyl–like Maybelline's Instant Age Rewind® Eraser Dark Circles Treatment Concealer. This will cancel out the purple undertones around your eye area more flawlessly while reinforcing firmness around.
2. Curl your lashes
Curling your lashes will help fan them out for a more aware-looking appearance. Just clamp down gently, making sure you're not nipping any skin. Try to get the eyelash curler as close to the root of your lashes as you can, then do a few little squeezes.
With curled lashes, your natural eye shape is highlighted and framed, visually lifting the whole area and giving your eyes a bigger look.
3. Glam it up with smokey brown eyeshadow
A nude eyeshadow palette is perfect for both daytime and evening looks. In particular, you can rock the timeless smokey eyeshadow look which complements all skin tones, not to mention the bold statement it gives. This helps sharpen the appearance of your eyes by adding depth and dimension around your eye area.
To make your eyes look more lifted, make sure that you use a darker color on your crease, and go lighter as you move towards your brow bone. You can use an accent color to define your edges and add that extra shimmer. Then, blend up to diffuse the shades in your crease and outer "V". Finally, finish by defining your lash line.
Pro-tip: When choosing eyeshadow, pick one that features different shades like the Maybelline City Mini Palette so you can create custom eye makeup looks on the go.
4. Choose a lash-lifting and volumizing mascara
Using mascara, particularly the waterproof-based type, not only enhances your eyelashes but also makes your eyes pop. It's effective go-to hack that's perfect for an everyday look, whether you're going for a natural or a dramatic finish. It's also a clever trick if you want to look a little bit more awake for that morning Zoom call after a late-night binge-watch of your favorite Netflix show.
To create that lash-lifting effect, swipe on a volumizing mascara at the base of your lashes and less at the tips, combing outward at the end.
Pro-tip: For more battable lashes, try applying a lengthening formula like the Maybelline Falsies Lash Lift Mascara along your upper and lower lashes and then brushing a thickening coat over the top.
5. Highlight the inner corner of your eye
Also known as eye strobing, inner corner highlighting makes you appear more awake by creating a doe-eyed look. For this hack, dab your pinky into the powder highlighter and press it into the inner corners of your eyes. Bring the highlighter closer to the sides of your nose to make your eyes look bigger. You can also try this with a brush to be more precise.
Pro-tip: For that mesmerizing finish, you'll need a highlighter that creates a smooth chrome effect, such as the Maybelline Facestudio® Master Chrome™ Metallic Highlighter, which effortlessly envelops the skin in a molten metal sheen, rendering a brilliant and luminous glow.
6. Wing it
The winged eyeliner look helps make your eyes appear bigger. For this technique, use a black eyeliner by starting at the center of your upper lash line, extending it outward, and then upward toward your eyebrow. Then, angle another line from that point of the wing downward and across your lash line until it connects to create a winged tip.
When picking an eyeliner, opt for 24-hour lasting formula like the Maybelline Line Tattoo Impact Pen so you can go about your day without worrying about your eye makeup being smudged.
Pro-tip: Try to avoid heavy eyeliner on your upper lid, as this can make your eyes look smaller. Instead, draw a thin line above your lashes and taper the eyeliner outward to create a subtle flick.
Rock a Look Behind Your Mask
While the pandemic has got you covering your face with a mask, it also presents an exciting opportunity to get playful with your eyes, which are the "windows to your soul." With a bit of creativity, you can highlight the part of your body that's become an even more powerful form of expression than it was before.
Share this content with your friends and family on social media so they, too, can amp up their pandemic look!
Source: maybelline site